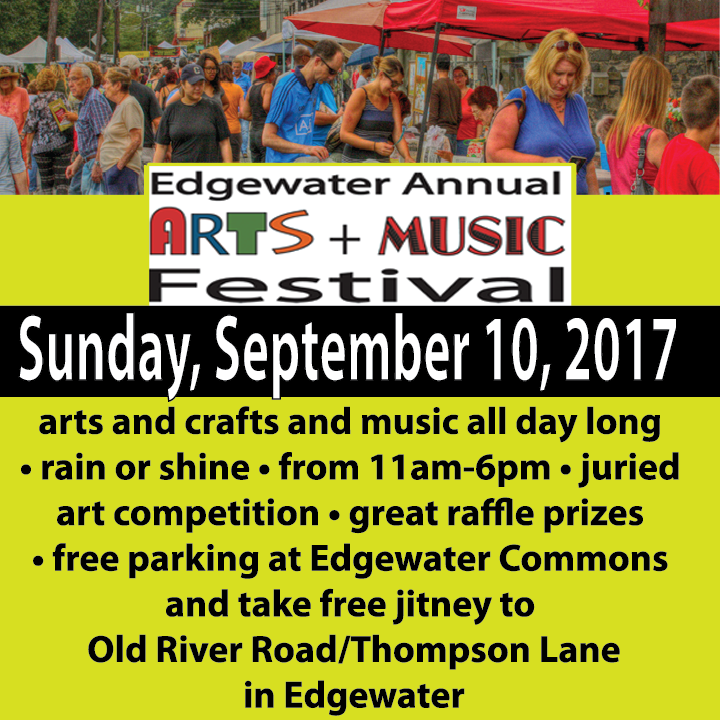 Edgewater Arts Festival
Date: September 10 from 11am to 6pm
Location: Old River Road/Thompson Lane (Shadyside)
A juried art show with total of $ 5,000 cash prizes
(Best of Show, Best Art, Best Photography, Best Craft, Best Mixed Media, Best Fiber Arts, Best Student)
Five bands from Main Stage
Over 80 artists
Rain or Shine
Free parking
Edgewater Arts Council is a 501(c)4 non-profit organization
CONTACT: lynne@edgewaterartsnj.org,  karin@edgewaterartsnj.org

Free Music at the Edgewater Marina for the whole family. Bring a Chair or Blanket and enjoy great music. Sponsored by Edgewater Arts Council.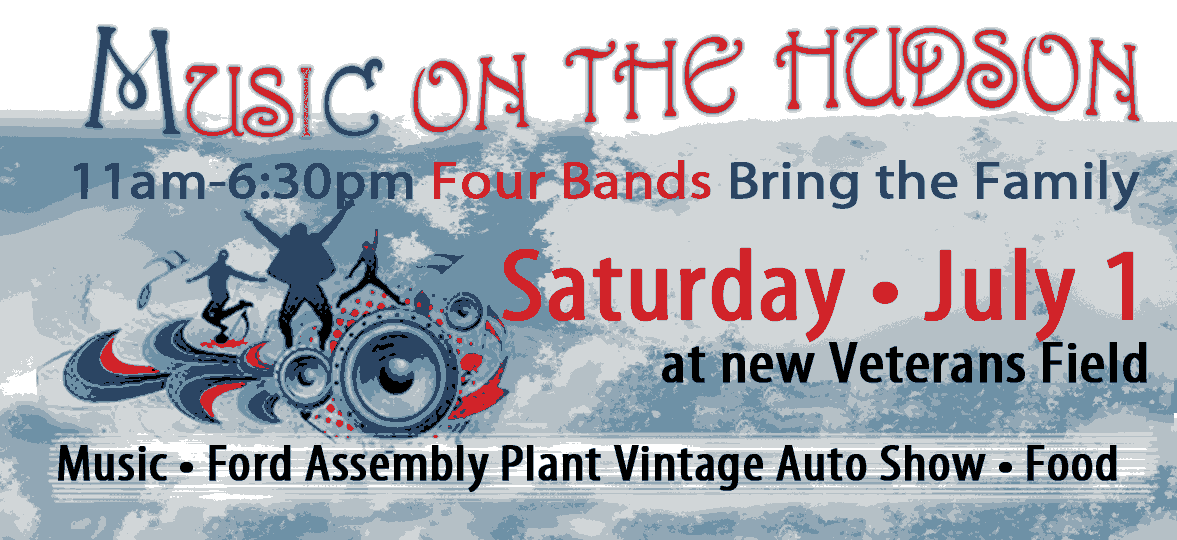 Hear 5 Bands & More,  Celebrate the Grand Re-Opening of Veterans Field
Music Schedule
10:30-3:30    Ford Assembly Plant Vintage Auto Show
11:00-11:45   Dancers from local studios
12:00-12:30  Carlethal, Urban Rock
12:45- 1:45   Elin Sings Brazil!
2:00-2:30  Car Trophies Award Ceremony
2:30-3:30  Blues Express, Sue Williams
4:00-5:00  Kayla Rae
5:30-6:30   Chico Alvarez, Mauricio Smith  & Ran Kan Kan
Celebrating the Re-Opening of Veterans Field
Edgewater Arts Festival
Date: September 18 from 11am to 6pm
Location: Old River Road/Thompson Lane (Shadyside)
A juried art show with total of $ 5,000 cash prizes
(Best of Show, Best Art, Best Photography, Best Craft, Best Mixed Media, Best Fiber Arts, Best Student)
Five bands from Main Stage
Over 80 artists
Rain or Shine
Free parking
Edgewater Arts Council is a 501(c)4 non-profit organization
CONTACT: lynne@edgewaterartsnj.org,  karin@edgewaterartsnj.org
Reception Date: May 13 6 pm –  pm Your are invited — please come!"
Permanent exhibition from May-August 2016
10% of artwork sold will be donated to Edgewater Schools/Arts Departments
Thank you Jane Sklar and Max Cartagena!
Have a picnic, sit in the grass and listen to these enjoyable musicians!
sponsored by Edgewater Arts Festival
Please see below for the musicians:
Joe Gardiner on guitar
Jay Zelezny on guitar and vocals
Larry Mack bass guitar and vocals
John Foschino percussion
Joyceann Raffa vocals
RandB, Blues, and Rock