For questions about music please contact:
Barbara A. Connelly & Larry Lipsen, Co- Music Directors
larry@edgewaterartsnj.org
SEPTEMBER 2017 FESTIVAL MUSICIANS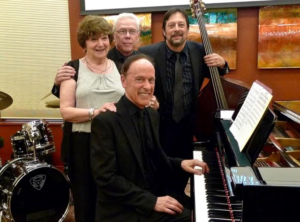 Joel Zelnik
A contemporary of Bill Evens, Joel has entertained five presidents, has been a pianist/bandleader for thousands of events and has performed at concert venues in New York City, Atlantic City, Las Vegas, Japan and Greece.  He's recorded four CD's and holds an M.A. from Rutgers University. His latest recording, "Live at Steinway Piano Gallery" was released in Japan and is available worldwide.  Currently performing "My Bill Evans – A Personal Conversation", this timely program is based on the dialogues between Joel and Bill Evans at the Village Gate during the mid-1960s.  Signature Evans works are performed, and Joel plays pieces he enjoys that show the Evans influence.  He resides in Closter, NJ.  He performs with the Joel Zelnik Trio featuring vocalist Annette Sanders.
Annette Sanders
Annette Sanders' career has been a constant whirlwind of recording and performing. After attending Hunter College, she was heard by the late producer/composer Bobby Scott who signed her to Mercury Records.  Her big break came in 1966 when Benny Goodman chose he as his featured vocalist for his prestigious Rainbow Grill engagement, archived on the recently mastered Yale University Music Library Series.  At this performance, she was rediscovered by producers of advertising jingles, and her voice is heard on thousands of jingles, movie soundtracks and CDs.  She's worked with Dionne Warwick, Roberta Flack, Mel Torme, Michel Legrand, Antonio Carlos Jobin, Gerry Mulligan, Gloria Estefan and Barbra Streisand.  She's known for her work on "Everyone Says I Love You" (1996), "Mighty Aphrodite" (1995) and "The Life and Adventures of Santa Claus" (1985). She resides in Edgewater.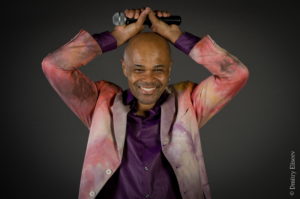 Bobby Harden & Soul Purpose
Singer/songwriter Bobby Harden has earned an international reputation as "New York's Soul Man". His debut CD SoulPurpose on Nyota Records is a traditional project built on good story lines, generous melodies, solid grooves and powerful vocals. Inducted into the "Blues Hall of Fame" in 2013, Bobbyhas performed at Carnegie Hall, Obama Inaugural, Lincoln Center, Bitter End, Calgary Stampede, and for the King of Morocco.  He's performed with the original Blues Brothers Band and his commercial jingles include American Express, Budweiser, Holiday Inn and Slimfast.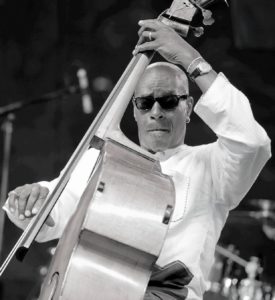 Curtis Lundy
Curtis Lundy is an American double bass player, composer, producer, choir director and arranger. He is best known for his work as part of jazz vocalist Betty Carter's band.  Lundy has played on albums including those by John Hicks, Bobby Watson, the Steve Nelson Quintet and Johnny  Griffin. His arrangement of "Walk with Me", recorded by the ARC Gospel Choir, was sampled by rapper Kanye West and became the Grammy Award-winning hit "Jesus Walks".  Curtis is the brother of jazz vocalist Carmen Lundy. He resides in Edgewater with his wife Pastor Wanda Lundy. He plays Thursday nights at Orama Restaurant in Edgewater.  www.Curtislundy.com
Participating Musicians
July 1, 2017
CARLETHAL
Carlethal is a survivor of the streets of Queens to Upper Manhattan. Witnessing murders, drug abuse and rape, his escape became music. His songs were heard on Hot 97 FM in NY, stations in the South and on the college circuit. He's performed in benefits for the H.I.V. Friends for Life, the Winter Garden Sound Stage and Hurricane Relief Stages. He's also performed in Madison Square Garden, and the Greek theatre in Los Angeles. His new EP, Battlefield is currently in release on digital platforms such as Rhapsody, iTunes, Amazon mp3, Shazam, Emusic, Spotify, Tidal, Deezer, Emusic, Google Play, etc.
ELIN 
Based in Washington, D.C., international and multi-cultural vocalist Elin, spent 11 years on the NYC jazz scene playing everywhere from the Blue Note and Joe's Pub to sold-out shows at Dizzy's Club Coca-Cola and releasing her own album, Lazy Afternoon, to much critical acclaim. An award-winning composer, Elin has collaborated among others with electronica giants, Thievery Corporation, on their most recent releases and just performed with them and the Kennedy Center Orchestra.
Elin has toured the world as a featured performer and played jazz festivals   for artists such as Nancy Wilson and George Benson. Currently, she's fundraising to complete her Elis Regina tribute album, "Brasileira de Alma e Coração: A Brazilian Heart and Soul," which features Elis Regina's pianist Antonio Adolfo, who also arranged all the music, bassists extraordinaire Christian McBride and Nilson Matta, Israeli guitarist Yotam Silberstein and drummer Rafael Barata. Elin's band features top Brazilian musicians when performing in the New York metro area.
BLUES EXPRESS
Sue Williams, bassist, leads the band "Blues Express" featuring the vocals and harmonica playing of Rob Paparozzi, Dave Keyes, piano & vocals and Warren Odze, drums. Sue has performed all over the world, including at the White House with Eric Clapton, on Broadway in the pit band of "Smokey Joe's Café" and at all the major jazz and rock clubs in NYC. She teaches music technology courses at Bergen Community College—for the past 12 years—and has also taught tech music courses at Ramapo College in Mahwah and Montclair State University. Sue is a resident of Edgewater.
KAYLA RAE
Kayla Rae is an 18-year-old singer/songwriter from Lagrangeville, NY.  Influenced by Amy Winehouse, Lana Del Rey, and Lady Gaga, she likes to lean toward her dark and mysterious side, despite the upbeat vibe of her music.
Kayla Rae is honing her craft by constantly writing new material, collaborating with other artists and continuing to perform at festivals in the tri-state area. Some of the venues she's performed at include clubs such as the Bitter End, NYC, Towne Crier Café, Beacon, NY; festivals such as the Freedom & Fireworks Festival, Jersey City, NJ, Corn Hill Music & Arts Festival, Rochester, NY.  An EP, which is in the process of being mixed and mastered, will be released in the next couple of months.
The young singer spent over a month in California this past fall (October 2016) as a contestant on Season 12 of NBC's "The Voice". This has led to a nation-wide audience being able to see this budding artist whose future in the music business is shining brightly.
CHICO ALVAREZ, MAURICIO SMITH, Jr., & RAN KAN KAN
Ernest "Chico" Alvarez is a vocalist and bandleader who has been performing for the last five decades. His long-running radio show, New World Gallery, has been airing over WBAI (99.5) for 30 years.
Born in Brooklyn, raised in Cuba and then a move back to New York, Alvarez was attracted to Latin music because of its strong Cuban foundation. After sitting in with great pianist Charlie Palmieri, he was bitten by the "performing bug".  A creative person, he also spent many years working as a graphic artist, designing over 5,000 album covers, ads, logos and posters.
The album "A Tribute to Arsenio Rodriguez" guided him to the "Cuban sound".  He was soon composing original material and performing with the bands of Lou Perez, Terry Pierce's Roseland Orchestra, hector Rivera, Baby Gonzalez, Havana Brass Orchestra, Brisas del Caribe and many others.
In 2002, Alavrez received the Chico O'Farrill Lifetime Achievement Award in recognition of his contribution to Latin Jazz. He's received other awards for his excellent radio hosting.    
His latest album is "El Montunero".
Besides Ran Kan Kan, Chico and Mauricio Smith, Jr, who plays flute and sax, are kept busy with the Brooklyn-based Conjunto Sabor.
Celebrating the Re-Opening of Veterans Field
Participating Musicians
September 18, 2016
12:00 – 12:30:
The Source Dance Lab – Student Dancers, Hip Hop & Jazz
1:00 – 2:15:
Sue Williams and The CRVs – Jazz, Pop & Rock
3:30 – 4:30:
Nelson Riveros Quartet – Contemporary Latin & Brazilian Jazz
2:30 – 3:30:
Queen Esther & The Blue Crowns, Alt-country, Black Americana & Holy Blues
5:00 – 6:00:
Chico Alvarez, Mauricio Smith, Jr., and Ran Kan Kan
Participating Musicians September 20, 2015
For musician contact information please contact the Edgewater Arts Council
The Revivors :   Blues, R&B
Alec and The Pocket:   Pop
Sue Maskaleris and Trio do Rio:   Latin beat with guest singer
Itaiguara:   Brazilian bassist
Mista B and The Boyz:   Rhythm and blues